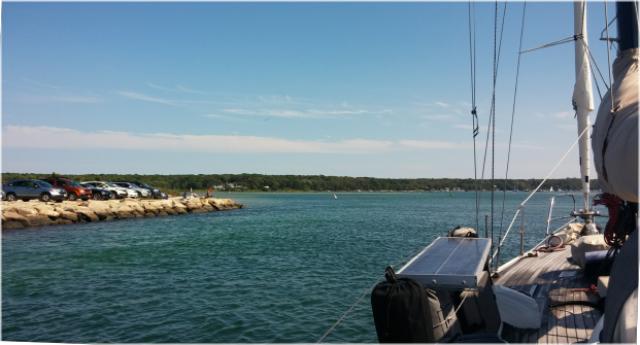 We left mooring ball #9 around 0800 with wind on our nose and current with us. Sadly this led to a serious chop resulting in a bumpy and slow ride. Still we had plenty of time for our intended passage through Wood's Hole at 1030 when the current there would be slack. At 1100, we entered Vineyard Sound where we again got bounced around with opposing wind and current. We arrived at Lake Tashmoo's breakwater at 1510 where we noticed a shoal encroaching the channel from the West. So we favored the East side. Almost a costly mistake with wind blowing us towards the rocks. Depth sounder said we were aground but we were still moving. Depth went quickly from 5.5 ft. to 9 ft. Ten minutes later we were safely at anchor.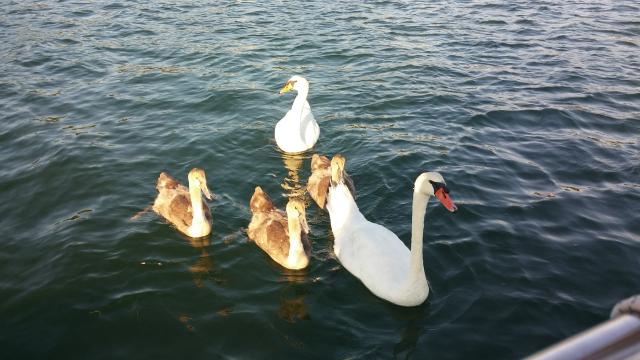 We had several welcoming committees visit during our two day visit. Two beautiful mute swans with 5 adolescents in tow came to visit and ask for a handout. We obliged. The swans apparently talked to the duck families in the neighborhood. Before long, we had 10 ducks parading around the boat. More snacks for the 'kids'. Not bad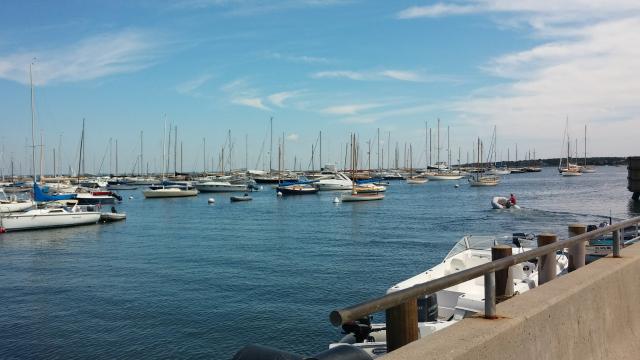 Today we took the dinghy to the dinghy dock and hiked up the hills to the Village of Vineyard Haven. Being our first visit to Martha's Vineyard, we were in exploring mode. We checked the shops, had a bite of breakfast, checked out the harbor, and tried to figure out the bus system. Nice town but a little tight with all of the ferry travelers.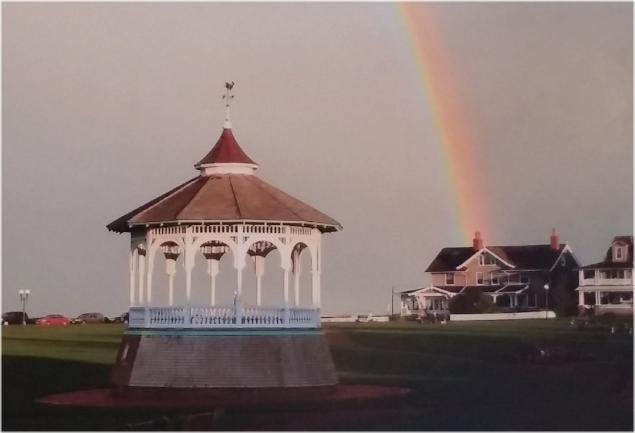 We figured the buses out so we planned a trip to the Village of Oak Bluff. We were told that Oak Bluff is less 'touristy' than the Haven. Not sure why they said that. Lots of shops. Lots! There are many, many restaurants, a large green space park where we were lucky enough to see a rainbow, and throngs of people. We bought some Black Dog stuff, and then took the bus back to the Haven, and the dinghy to the boat. Tomorrow we head for Newport.
---