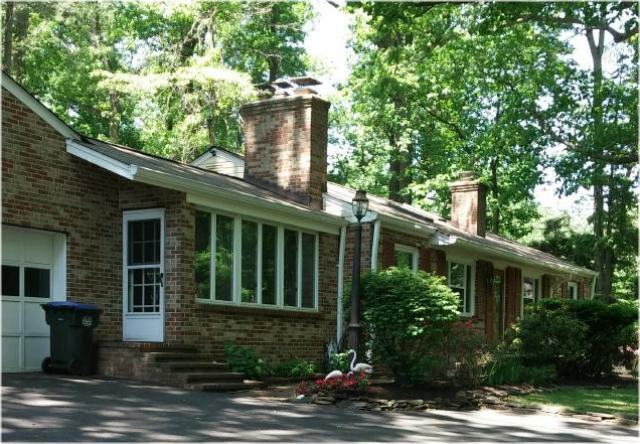 We had several months to go before Jule would be ready to begin the 2015-2016 cruising season. But that is OK as we had lots to do. We would often head up to the family 'compound' outside Washington DC and spend time with Chris and his family. The house has been in the family for over 30 years.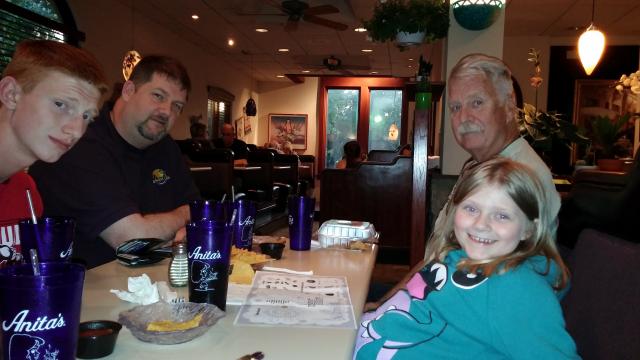 We like to eat and our knowledge of restaurants in the area confirms that. Here we are at a local Mexican restaurant waiting for our food. Sammy Jane visits her cat cousins, Mr. Peabody and El Bucalieto with a bit of caution. Bucalieto (the youngest) still likes to play while Sammy is definitely la vieja.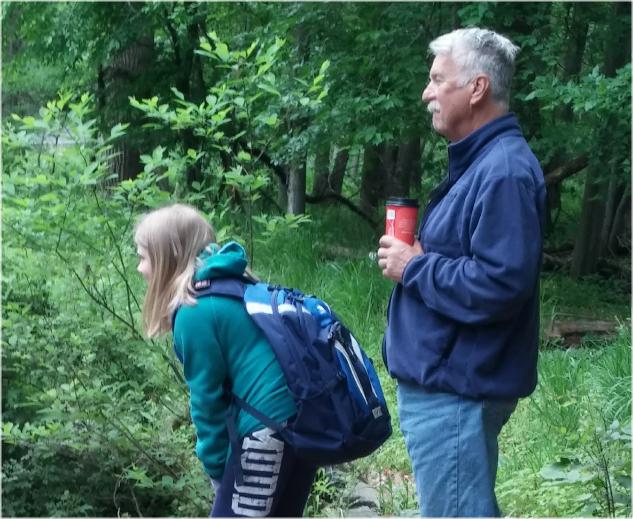 Capt. Bob invented and refined the school bus game where the combatants both look for the proper school bus. The first to find it and say 'I see it' wins. Capt. Bob usually loses the game but the last contest of the year was all his. Normally Lilli and Collin are not so kind.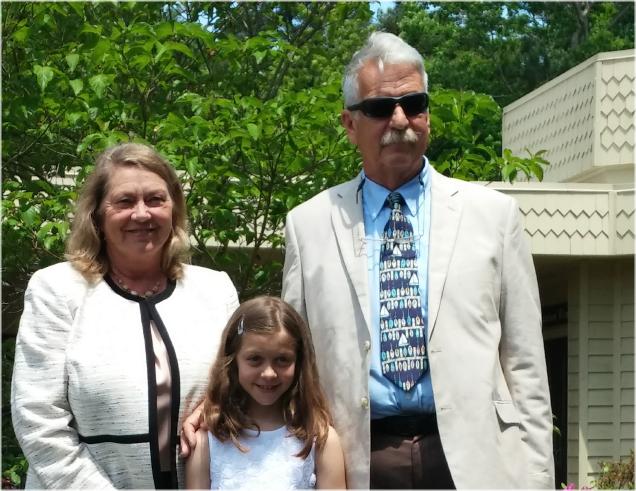 The rest of our USA family lives in Richmond, VA. Several weeks ago, we had the opportunity to see our grand daughter Lauren receive her First Holy Communion. Ceremony was perfect and Lauren was even more perfect. Afterwards we had a very nice lunch with Rob and his family. Yep, we do a bit of eating.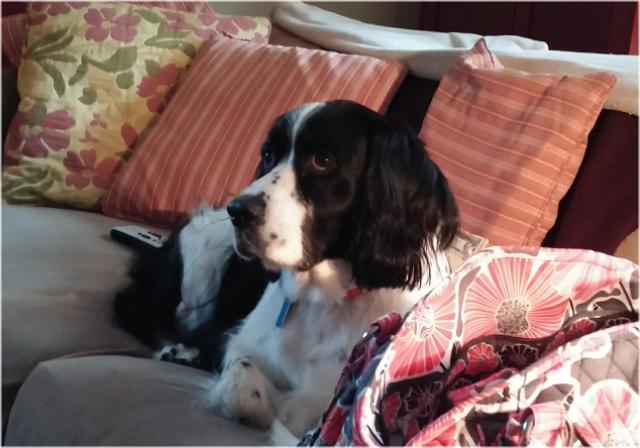 Back in Wilmington, we had the pleasure of dog sitting our next door dog, Hunter. His parents were off to see their daughter getting married in far away Mexico. So we volunteered to sit with Hunter. Sammy Jane is more fond of Hunter than her cousins, Mr. Peabody and Bucalieto. She loves dogs; not so much cats.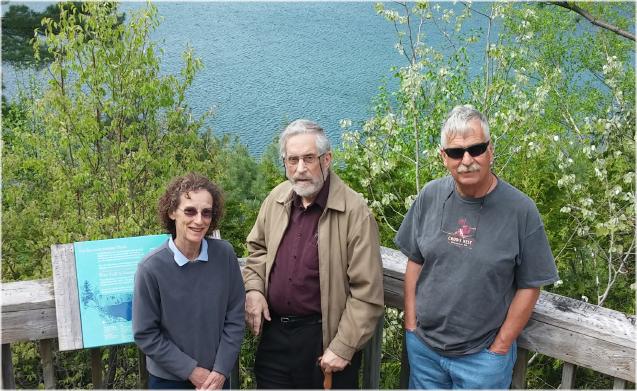 Next on our list was a visit to Bob's brother, Richard, in Quebec. Richard has been a bit under the weather for a while so we thought it was about time to drive up there for a visit. From the 'compound', it is a mere 10 hour drive. So we drove in Ann's new car and pointed it North. We could only spend a couple of days up there but had a wonderful time. This picture was taken at Pink Lake in the Gatineau Park.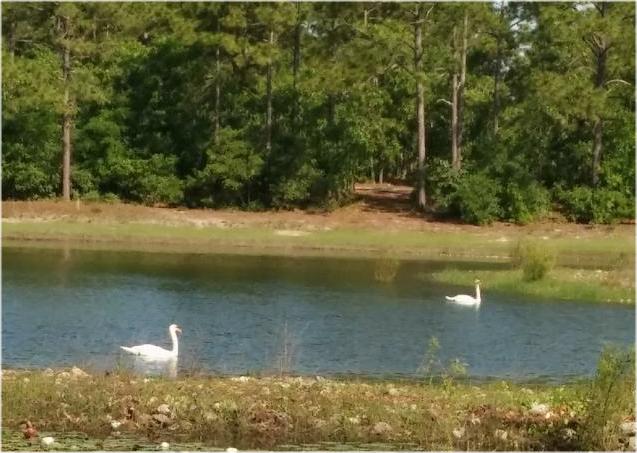 Back at Wilmington while re-provisioning Jule, we had the opportunity to walk our walks. There is an especially nice walk near our house with paved paths, quiet ponds with quiet swans, and the occasional pups walking their masters. We had many, many projects at the house which were to be done before the beginning of the cruising season. We didn't do too bad, but many things remain undone.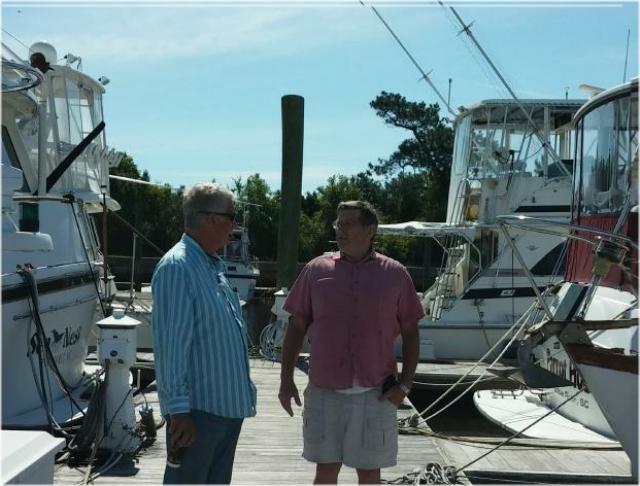 Back on the docks we go. Jon and Mary of SV Acceptance are in the same marina as Jule. We met them in Vero Beach a couple of years back and have been in touch ever since. Jon hopes to sail back to England for a bit on Acceptance but he has some major projects before he can leave.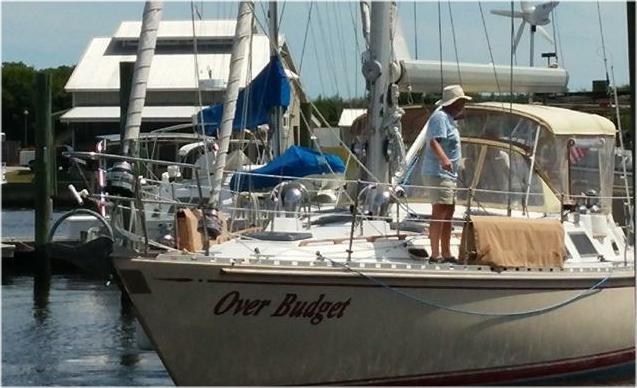 Our buddies on SV Over Budget (well deserved) stopped in Deep Point marina for a short stay. They were having a bit of systems problems which would need some attention. After some fun times, they headed up the Bay to get their problems fixed. After they arrived, they found more problems. Sad but they have more toys than we do.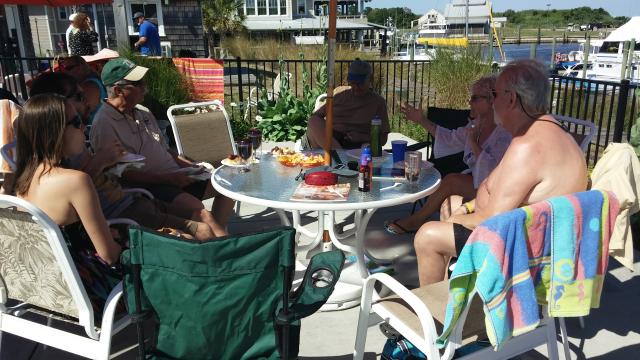 Last weekend, our marina had a pot luck for Memorial Weekend. Jon and Mary were at attendance as were our friends on SV 'Brazilian translation for Passion Fruit'. We met them several months ago at Bennett Brothers as they were working on their boat. They are still there and we hope to see them again before we leave.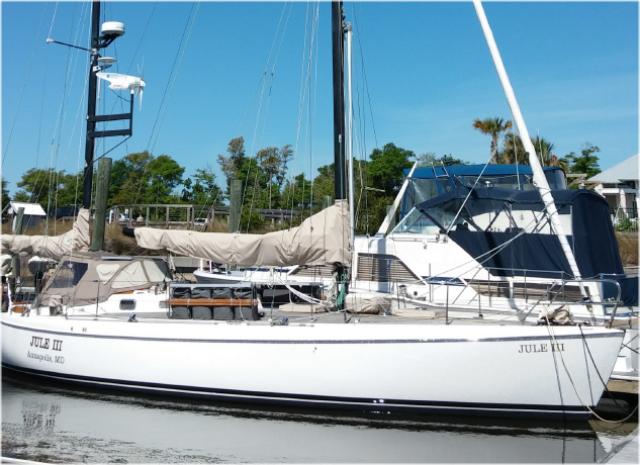 Jule III has been waiting quite a while to begin her next cruise. Tomorrow, we will stuff the last bit of provisions in her holds and check her systems one last time. She is ready. We are ready. Soon the weather will be ready. We are planning a rather quick trip from Wilmington to middle Chesapeake Bay; then some family stuff, then head for Maine. Should be a pleasant passage. It appears that the hurricanes may even stay away this year. We will see.
---